Double Strike
[
]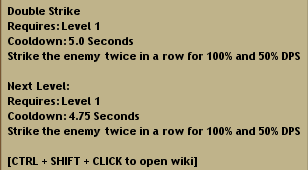 Description
[
]
-Acquired At Level 1-
Double Strike is your main damaging skill as a Brute.
You attack twice in quick succession dealing 100% and 50% of your DPS.
Upgrading this skill decreases the cooldown by 0.25
Notes
[
]
Unless you're looking to put out really fast mad damage late game I do not suggest leveling this up.