"Masters of the cloak and dagger. They wait in the shadows looking for a chance to apply their hit and run methods. Hardly ever seen by their victims."
Overview
[
]
Assassin is one of three Classes a player may choose from when creating a new character. It is a class focused on dealing out as much damage as possible. They can unlock the unique ability to whiled two one-handed weapons at once.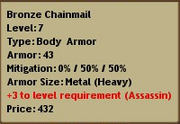 Assassin's suffer a slight level requirement penalty when equipping (Heavy) sized gear. An assassin must be 3 levels above the requirement to equip (Heavy) armor.
Assassins start with the skill Backstab.
Skills
[
]
The Assassin class learns many skills focused on maximizing damage per second and avoiding monster aggression. Leveling up these skills will increase damage and duration and decrease cool down times.
| Level | Name | Cooldown | Effect at skill level 1 |
| --- | --- | --- | --- |
| Level 1 | Backstab | 5 Seconds | 120% Weapon damage, if hidden 320% weapon damage. |
| Level 3 | Poison Tips | N/A Passive | Chance for attacks to apply a 20% damage DoT |
| Level 5 | Stealth | 60 Seconds | Used before battle, Allows you to sneak up on an enemy and causes your first hit to deal 100% more damage. |
| Level 10 | Dagger Rain | 2 Minutes | Attacks with 4 volleys of daggers dealing 110% DPS in an AoE. |
| Level 12 | Critical Strikes | N/A Passive | Increases your chance to deal a critical strike by 1.5% |
| Level 14 | Grappling Hook | 40 Seconds | Throw a hook at a target up to 20 tiles away and pull them toward you causing 110% DPS and stunning it for 1 second. |
| Level 18 | Dual Whiled | N/A Passive | Allows you to equip 2 one handed weapons. The second weapon is equipped in the shield slot for 50% of its damage. |
| Level 20 | Quick Reflexes | N/A Passive | 0.5% chance to reset all your cooldown timers. |
| Level 22 | Smoke Screen | 60 Seconds | Throw a smoke bomb at yourself or your target causing them to loose agro. |
| Level 26 | Disarm Trap | N/A Passive | You have a 10% chance to disarm traps when you walk near them. |
| Level 34 | Finisher | 60 Seconds | After you land a critical strike 50 times, you can kill any enemy that is below 30% health. (Will not work on Bosses) |
| Level 45 | Flash Step | 30 Seconds | Increases dodge chance and movement speed by 5% for 10 seconds. |